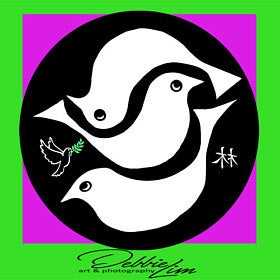 (Above) My new icon I designed. It represents my siblings and I.
My name is Debbie Lim, a self-taught artist, born in Detroit, Michigan USA. I had a very hard childhood and had only my art and siblings. My art was the way for me to escape my reality. My twin sister and I were aged out of the foster-care system, turning shy of 16-years-old.
Art was the only thing in my life that gave me stability.
While wildlife is my passion to paint, I recently discovered colored pencil art and now I am fascinated with working in this media.
Photography is my way to be calm and centered.
From the moment I bought a tiny camera from a drug store as a teen, I was hooked on photography! I taught myself as much as I could and also took college level courses. During that time I basically lived in the dark room creating photos!
I primarily concentrate on wildlife in both of my artistic outlets, I have a passion for nature. When I am outside and I look around and see the beauty of this earth, it humbles me and makes me feel like it is a part of me.
I do show and sell my art and photographs. Please contact me if you are interested in my art or if you have any comments or questions. I am always working on new wildlife and Feng Shui art and most of them are not printed or shown at this website.

As for my Feng Shui work that a lot of people are interested in, I use my Chinese family background of Feng Shui by creating original artwork that correlates to the classic Feng Shui methods. Feng Shui is the use of energy "chi" to harmonize individuals with their surrounding home and/or office environment.
   Debbie
Photo Credit: Donna Lim
Thank you for your interest in my art. If you would like to read some of my short personal posts, please continue reading at this link – It shows more of my personal side and feelings as I go along on this journey called Life
Copyright Details: All rights reserved: I, Debbie Lim own all rights to my artwork, e.g., drawings, photographs, and any type of prints that I make of my art/images. Any prints I sell and any images you see here at this website I created unless otherwise noted.